6th Grade Social Studies Writing Assignments
Is anyone else wondering where social studies went? Teachers are facing time crunches, and dedicated social studies lessons are slowly being squeezed out of our elementary classrooms. We're told to embed social studies curriculum into language arts, but with very little guidance or materials, it doesn't always go well. But what if we flipped that idea around? What if we integrated literacy into social studies?
Here are six simple social studies activities for grades K-6 that incorporate reading and writing. Activities are adapted from HMH Kids Discover Social Studies, a curriculum that uses graphic magazines with hands-on lessons and activities to support literacy instruction.
1. Create Good Citizen Posters (The World Around Us, Kindergarten)
After reading , start a discussion with your class by asking questions like these: How can you help people at home? What can you do to take turns in school? How can you show respect for people in the community? Then have your students make posters that show ways to be a good citizen at home, in school, or in the community. Have them share their creations with the class.
2. Write a Class Book About Your Community (Families and Working Together, Grade 1)
Have students make a class book on how geography and climate affects the way we live. Students will find the information to create the pages by reading this magazine about where we live. Ask students to compare their community to another by asking questions (e.g., Is it near water or mountains? Is it on flat land? What is the weather like? How do these things shape the way people in the community live?). Have students draw pictures of people in each place, showing the clothing they wear, food they eat, homes they live in, how they get from one place to another, and the things they do to have fun. Write a sentence under each picture explaining how location and weather shape the way people in the community live. Put all the students' pictures together to make a book.
3. Make a Chart About U.S. Government Branches (Neighborhoods and Community, Grade 2)
Show students how to make a chart with three columns, one for each branch of the U.S. government. Then have them fill in the columns with information they learn from reading this magazine about leaders and government. The chart should explain the responsibilities of the executive, legislative, and judicial branches and include the names of important positions for each branch. Encourage students to use color and pictures to communicate their ideas.
4. Write an Invitation to Early Settlers (Communities, Near and Far, Grade 3)
Students get show what they've learned from reading this magazine about settling the land by imagining they're early settlers in your community and writing a letter to a friend or relative in another part of the country. Students should invite that person to come and visit by describing the area, explaining why the person might want to settle there.
5. Create a Museum Exhibit About Landforms. (American States and Regions, Grade 4)
Students work in pairs to create museum exhibits and pamphlets after reading this magazine about U.S. landscapes. Have kids imagine they work for a museum that specializes in exhibits about your area and let them create a two-part exhibit. One part is a model of the landforms and bodies of water in your area. The other part is a written report about these features, as well as the climate, plants, and wildlife. You can also ask them to compare your area with other areas. Students can review the information in the magazine, and do additional research as needed.
6.Interview a Historical Figure (United States History, Grade 5)
After reading this magazine about the new nation, students get to pretend they're star reporters living at the time of the War of 1812. Their first assignment is to interview Francis Scott Key, the person who wrote the poem that would become "The Star Spangled Banner." One question could be about his experience witnessing the Battle of Fort McHenry. Others might be about specific parts of the poem.
7. Publish an Ancient Newspaper (World History, Grade 6)
First, have students read this magazine about early Rome. Then have them put together an ancient newspaper that
 reports on Ancient Rome. Kids can decide on a clever name for the paper, and choose people, places, and events to include in various sections (e.g., weather report, obituary, biography, articles, etc.). They can illustrate the newspaper with drawings and advertisements that relate to that time.
Daily Writing Prompts
Creative Writing Prompts for every day of the year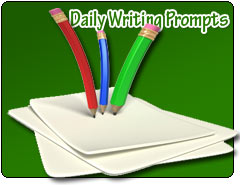 As always, The Teacher's Corner is looking for ways to make your life easier. We hope that our newest addition, "Daily Writing Prompts," does just that. On as many days as possible, we have selected an event from our monthly event calendars to be the focus of the writing prompt. These writing prompts can be used in a number of ways:
Daily warm-up activity
Practice in prompt writing for state assessments
Daily/weekly writing prompt
"Anytime" activity
Student work center
"When You're Done" activity
Substitute teacher activity
One added advantage to TTC's "Daily Writing Prompt" is that they can easily be displayed through an LCD projector in your classroom. This eliminates time you would have to spend at the copy machine. All of the prompts can easily be printed as well. Be sure to look over the different options we provide you for printing.
You will find that our prompts are written for different grade levels. We hope to continue to adding new creative writing prompts that will meet the needs of both primary and intermediate students. You may find that some of them don't explicitly state that days event. You may want to refer back to the monthly events calendar for this information in order to share it with your students.
One of the
Writer's Digest
"
101 Best Websites for Writers
"
(2008 & 2011)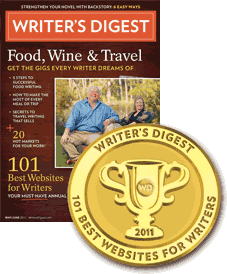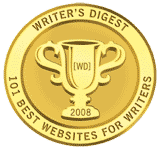 January Writing Prompts - Writing Prompts include: author J.R.R. Tolkien, Benjamin Franklin, Home computers, and much more.

February Writing Prompts - Writing topics include: Groundhog Day, the Super Bowl, Valentine's Day, The Pony Express vs. email, and more.

March Writing Prompts - Writing Prompts include: Yellowstone National Park, Mardi Gras, Harriet Tubman Day, St. Patrick's Day, Poetry and more.

April Writing Prompts - Including April Fools Day, signing of the Civil Rights Act, Lincoln's Assassination, Earth Day, Arbor Day and more.

May Writing Prompts - Teacher Appreciation, Cinco de Mayo, Lewis & Clark, World No Tobacco Day, and more.

June Writing Prompts - Donut Day, Henry Ford and the first car, Donald Duck, Anne Frank, the 'Happy Birthday' song, and more.

July Writing Prompts - Prompts include: the first Zeppelin, U.S. Independence Day, Apollo 11 and living on the moon, Sesame Street, Fingerprints, patents and more.

August Writing Prompts - Writing prompt topics include: signing of the Declaration of Independence, National Joke Day, Amelia Earhart, I Have a Dream Speech, and much more.

September Writing Prompts - Topics include: National Book Month, the introduction of the color T.V., the Treaty of Paris, September 11th Day of Remembrance, Rosh Hashanah, Good Neighbor Day and more.

October Writing Prompts - Writing prompts include: Comic Strips, Fast Food, Earthquakes, International Red Cross, the Stock Market Crash of '29. and more.

November Writing Prompts - Prompts include: Daniel Boone, Elections, Basketball, the invention of the X-Ray, Women's Rights, Mickey Mouse's Birthday, the Gettysburg Address, and more.

December Writing Prompts - Writing prompt topics include: Rosa Parks, the phonograph and CD's, Human Rights Day, Snow and the first day of winter, and more.

Don't miss our other Monthly Activities, Lesson Plans, and Resources.
We are looking for feedback on this new feature, so please EMAIL any comments.